The 2018 Monaco Grand Prix is fast approaching, and I've just seen Daniel Ricciardo storm to the Monaco lap record for the sixth grand prix of the season. Ahead of tomorrow's race, I've taken a look back ten years, to the 2008 Monaco Grand Prix to see how that grid lined up, and where those drivers are now.
2008 Monaco Grand Prix Grid.
Felipe Massa: Ferrari
2008 was the year Massa so nearly became a F1 world champion. In fact, he was quite literally one corner away in what was one of the most exciting finishes to a season I can ever remember. Massa never quite captured his 2008 form again and suffered a terrible accident in qualifying for the 2009 Hungarian Grand Prix which sidelined him for the rest of the season. On his return in 2010, Massa spent a further three years at Ferrari before moving to Williams for 2014. After retiring once at the end of 2016, Massa returned to Williams for 2017 after Bottas's switch to Mercedes and despite a handful of podiums over his last seven seasons, he would never return to the top step of the podium again.
In April 2018 Massa announced that he will drive for Venturi Grand Prix for three seasons starting in 2018/2019.
2. Kimi Raikkonen: Ferrari
Raikkonen completed a Ferrari front row lockout at Monaco in 2008. Despite challenging for the title in 2008 after his 2007 triumph Raikkonen struggled in an uncompetitive Ferrari in 2009 winning just one race. Ferrari's desire to sign Fernando Alonso contributed to Raikkonen's retirement at the end of the '09 season but he would return to F1 in 2012 with Lotus after two seasons spent Rallying and trying out NASCAR.
On his return, Raikkonen spent two successful seasons at Lotus winning twice in Abu Dhabi and Australia before returning to Ferrari in 2014. Since then, the Iceman has finished on the podium 17 times but not yet returned to the top step.
3. Lewis Hamilton: McLaren Mercedes
Hamilton would go on to win the 2008 title after an epic, season-long battle with Felipe Massa. Since his title-winning year, Hamilton has gone on to become one of the greatest drivers of his generation following his switch from McLaren to Mercedes in 2013.
In one of the most dominant and impressive cars in F1 history, Hamilton stormed to the 2014, 2015 and 2017 drivers titles losing out to Mercedes rival Nico Rosberg in 2016.
4. Heikki Kovalainen: McLaren Mercedes
2008 was Kovalainen's first season at McLaren following his arrival from Renault. He would become the 100th driver to win a Formula One world championship race at the 2008 Hungarian Grand Prix and remained with McLaren through a disappointing 2009.


Following a switch to the newly formed Lotus team in 2010, Kovalainen spent the remainder of his years in F1 struggling at the back of the grid and would lose his driving seat at the team (now named Caterham) at the end of the 2012 season. After spending 2013 as a Caterham reserve, Kovalainen stepped in for Raikkonen at Lotus in at the US and Brazilian Grand Prix's, finishing 14th in both races. He would leave Formula One for good at the end of the '13 season and now races for Lexus Team SARD in the Japanese Super GT Series, winning the driver's championship in 2016.
5. Robert Kubica: BMW Sauber
Kubica would enjoy his most successful F1 season in 2008, finishing in 4th in the driver's championship in a rapid BMW Sauber. 2009 would be a struggle as the new regulations meant the team dropped back towards the lower reaches of the top ten before Kubica switched to Renault to replace Ferrari-bound Alonso for 2010.
Kubica would finish 2010 in 8th in the championship in the Renault R30 before a horrific rally accident in February 2010 meant a potential end to his F1 career. He would return to motorsport and rallying at the end of the 2012 season winning the Ronde Gomitolo Di Lana before winning the World Rally Championship -2 in a full-time 2013 season. Kubica would continue rallying in 2014, 2015 and 2016 whilst also taking part in GT racing at Mugello and the Renault Sport Trophy at Spa in '16.
A potential drive at the ByKolles LMP1 team for 2017 failed to materialise and instead, Kubica would test with first Renault, and then Williams over the course of the 2017 season with an eye on a race seat for the 2018 season. After missing out on seats at both teams, Kubica was signed as a reserve driver for Williams for 2018.
6. Nico Rosberg: Williams Toyota
Rosberg would retire from the 2008 Monaco Grand Prix before finishing the season in 13th place in the driver's championship. He would fare slightly better in a more competitive Williams in 2009 finishing in 7th before moving to the newly formed (from Brawn GP) Mercedes team in 2010.
Three podium finishes would come in 2010 for Rosberg as Mercedes initially struggled to make an impact in F1, despite having Michael Schumacher in the other car. His, and Mercedes' maiden race victory would come at the 2012 Chinese Grand Prix before Rosberg won twice, at Monaco and at Silverstone in 2013 with Lewis Hamilton as his new teammate.


2014 would see a new era of dominance for Mercedes and Rosberg engaged in a three-season-long rivalry with Hamilton before retiring after winning the 2016 drivers championship in dramatic fashion in Abu Dhabi. He has yet to return to competitive racing but remains a key part of the Mercedes family as an official ambassador.
7. Fernando Alonso: Renault F1 Team
Alonso would remain at Renault, the team where he won his two drivers titles in 2005/6 until the end of 2009 where he completed a much talked about move to Ferrari. The Spaniard would prove Sebastian Vettel's closest challenger for the next four seasons, finishing 2nd in the title race three out of four times before struggling in an uncompetitive 2014 Ferrari.
Amid much fanfare, Alonso returned to McLaren in 2015 who had embarked on a new partnership with Honda. However, poor car and engine performance hindered Alonso at the peak of his F1 powers and his future beyond 2018 looks uncertain.
8. Jarno Trulli: Toyota
The namesake of the infamous Trulli Train would finish 9th in the 2008 drivers championship and stayed with Toyota until their withdrawal at the end of the 2009 season. Trulli switched to Lotus for 2010 before his career as a full-time F1 driver ended at the end of the 2011 season. The 2004 Monaco GP winner remained with the team (now named Caterham) for 2012 as a test/reserve driver before leaving F1 at the end of the season.
Trulli drove for his own Trulli GP team in Formula E for its inaugural 2014/2015 season finishing in 20th in the table. After failing to pass scrutineering for the first two rounds of the 2015/2016 Formula E season Trulli GP withdrew from the series and he has since not been seen in top-level motorsport.
9. Mark Webber: Red Bull Renault
Mark Webber would go on to win nine F1 races with Red Bull Racing over an eleven-year F1 career before retiring at the end of the 2013 season. He would finish third in the championship three times from 2010 – 2013, often being in contention for the title. There were frequent fireworks between Webber and teammate Vettel, and between Webber and Red Bull but he remained professional throughout the final season of his career scoring eight podiums including a second place finish in his final race.
Following his F1 retirement, Webber joined Porsche's LMP1 WEC team winning the title in 2015. Webber left Porsche at the end of 2016 and hasn't returned to racing in a professional capacity.
10. David Coulthard: Red Bull Renault
2008 was Coulthard's final season in F1. He remained with Red Bull Racing as a test driver for the 2009 season before joining the DTM with Mucke Motorsport for 2010. During his time in the DTM, Coulthard finished 16th, 16th and 15th in the driver's table before retiring from motorsport at the end of the 2012 season.
11. Timo Glock: Toyota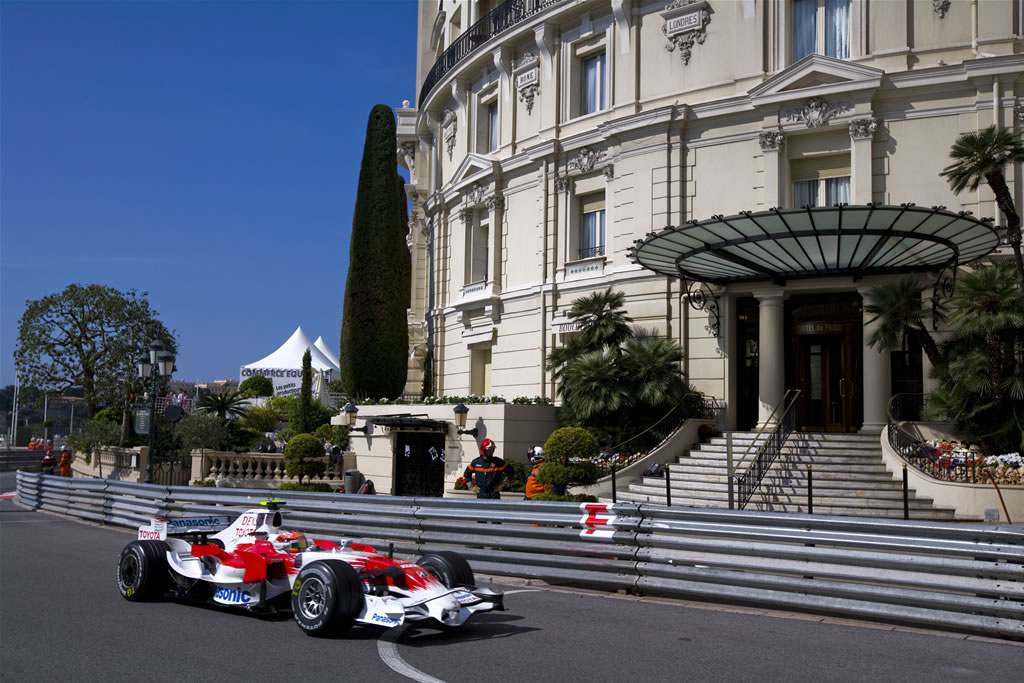 Glock is another driver who after leaving F1 has found a career in the DTM. After finishing 2008 10th in the driver's table Glock remained with Toyota until their withdrawal from F1 at the end of 2009. He would then switch to the newly formed Virgin Racing team in 2010, but like Kovalainen would struggle at the back of the grid until leaving the team (now called Marussia Racing) and F1 at the end of the 2012 season.
Glock would then join BMW Team MTEK in the DRM for 2013 and has since won six races in the series where he races to this day as a BMW factory driver. He made the switch to BMW Team RMG for 2016 and currently (at the time of writing) leads the DTM championship.
12. Jenson Button: Honda
2008 would be a struggle for Button and Honda in the uncompetitive yet iconic MyEarthDreams car. However, following a dramatic winter break where Honda left F1 and Ross Brawn bought the team Button would go on to win the 2009 drivers title thanks to an incredible start to the season, where he won six out of the first seven races.
A dream switch to McLaren beckoned in 2010 and he would finish 2011 second in the driver's championship. Button would remain in F1, despite McLaren's struggles from 2014 onwards until the end of the 2016 season before making a one-off appearance at the 2017 Monaco Grand Prix.
Following a full retirement from the sport, Button now competes in the Japanese Super GT championship and the World Endurance Championship.
13. Nick Heidfeld: BMW Sauber
Heidfeld would finish 2008 sixth in the championship table before remaining with the team until BMW left F1 at the end of 2009. Heidfeld was signed as the Mercedes test and reserve driver for 2010 having been initially considered for a drive before being released in August 2010 to become the Pirelli test driver. Heidfeld had never driven the Mercedes 2010 F1 car.
He would return to F1, and Sauber to replace Pedro De La Rosa for the end of the 2010 season before joining Lotus Renault for 2011. Heidfeld parted company with Lotus Renault ahead of the 2011 Belgian Grand Prix and was replaced by Bruno Senna.
Since the 2014/15 season, Heidfeld has raced in Formula E, first with Venturi Grand Prix and now with Mahindra Racing with eight podium finishes to his name.
14. Kazuki Nakajima: Williams Toyota
2008 would mark Nakajima's best season in F1 as he finished 15th in the championship table. He would leave Willams at the end of 2009 was due to drive with Stefan GP in 2010, before the team failed to enter F1 in time for the season.
Post F1, Nakajima spent 2010 as a Formula Nippon test/reserve driver before joining Formula Nippon and the Japanese Super GT series full time in 2011. Nakajima remained based in Japan for the following years competing in Super Formula and Super GT alongside beginning a World Endurance Championship career with Toyota. He won the 2014 Super Formula championship and now drives for Toyota in the 2018/19 WEC Superseason.
15. Rubens Barrichello: Honda
Barrichello, like Button, would struggle in the 2008 Honda before finishing third in the 2009 table scoring two race wins with Brawn GP. He would switch to Willams for 2010, finishing 10th in the driver's championship before leaving F1 at the end of 2011.


Since 2011, Barrichello has competed in the Brazilian Stock Car championship winning the title in 2014. He continues to race in the series alongside appearances at the 2015 and 2016 Daytona 24 hours.
16. Sebastian Bourdais: Toro Rosso Ferrari
2008 was Bourdais' maiden season in F1, and he went on to finish 17th in the driver's championship scoring points in Australia and Belgium. He would remain with Toro Rosso for 2009 before leaving the team after the German Grand Prix receiving a $2.1m payout from the team.
Since his F1 career, Bourdais has raced in a variety of championships including Indycar, V8 Supercars, IMSA Sportscar Championship, WEC and the Amercian Le Mans series. He remains a full-time Indycar driver despite suffering a horrific crash during qualifying for the 2017 Indy 500, winning six races since 2011. He currently races for Dale Coyne Racing.
17. Nelson Piquet Jnr: Renault F1 Team
2008 was Piquet Jnr's only full F1 season in which he scored one podium at the German Grand Prix. Piquet Jnr left the Renault team following the 2009 Hungarian Grand Prix in the midst of the race-fixing scandal, which saw Piquet Jnr crash his car at the 2008 Singapore Grand Prix in order to bring out the safety car and help teammate Alonso to victory.
Despite being cleared to race in F1 again by the FIA in return for evidence against Renault, Piquet Jnr has not returned to the sport. Since 2009, Piquet Jnr has appeared in NASCAR (Xfinity and Camping Truck Series), the World Endurance Championship, Brazilian Stock Cars, Word and Global Rallycross and most frequently Formula E where he won the first ever drivers championship in 2014/2015.
He continues to race full time in Formula E (for Panasonic Jaguar) and the Brazilian Stock Car Series.
18. Sebastian Vettel: Toro Rosso Ferrari
2008 marked Vettel's first full season in F1, and he would go on to finish eighth in the championship after a stunning debut victory in a rain-soaked Italian Grand Prix. A switch to parent team Red Bull Racing followed in 2009 where Vettel would score a further four race victories on his way to being Jenson Button's closest championship challenger.
Vettel made history between 2010 – 2013 winning four consecutive drivers titles with Red Bull, before leaving the team at the end of 2014 for Ferrari. As of the 2018 Monaco Grand Prix, Vettel remains with Ferrari having finished third, fourth and second in the driver's championship tables in 2015, 2016 and 2017 respectively.
19. Adrian Sutil: Force India
Sutil would stay at the Force India team until the end of the 2013 season scoring 28 points finishes between 2008 and 2013 with a best finish of ninth in the driver's table in 2011. He would switch to Sauber for 2014, for an ultimately unsuccessful season before leaving to join Williams as a test and reserve driver for 2015. As of yet, he has yet to return to a prominent racing series in a professional capacity.
20. Giancarlo Fisichella: Force India
Fisichella would finish 2008 in nineteenth in the driver's table before ending his F1 career at Ferrari in 2009, stepping in for the injured Felipe Massa.
Since 2010, he has gone on to compete in the Le Mans 24 hours, and the Le Mans Series winning the Enduranceruacne Championship in 2012, and the Le Mans 24 Hours in 2012 and 2014. Both victories coming with Italian Ferrari GTE Pro Team AF Corse.