It's hard to believe we're now over 1/4 of the way through the 2018 BTCC season. I find it even harder to believe just how competitive a season we're seeing. That's something that I think with the BTCC, in particular, you could write almost year after year.
Thruxton was another weekend of landmark races, standout performances and for some, a touch of disappointment. Josh Cook and Power Maxed Racing scored another race victory after their breakthrough weekend at Donington, whilst Team BMR struggled to get going after their strong test at Thruxton earlier this year with a best result of 11th for defending champion Ash Sutton in race two. Read on to find my breakdown of four key talking points from the weekend's action.
Matt Neal and Team Dynamics Back on Form.
After a tough start to the season with some bad luck and poor form at Brands Hatch and Donington, Matt Neal and Team Dynamics left Thruxton having claimed three out of nine possible podiums. Neal put in a sensational qualifying performance on Saturday to take the new Honda Civic Type-R's first BTCC pole position in only its third round, before converting pole to victory in the first race of the day on Sunday. Dan Cammish also continued his fantastic start to his maiden BTCC season with his second podium finish of the season by finishing 3rd in race one.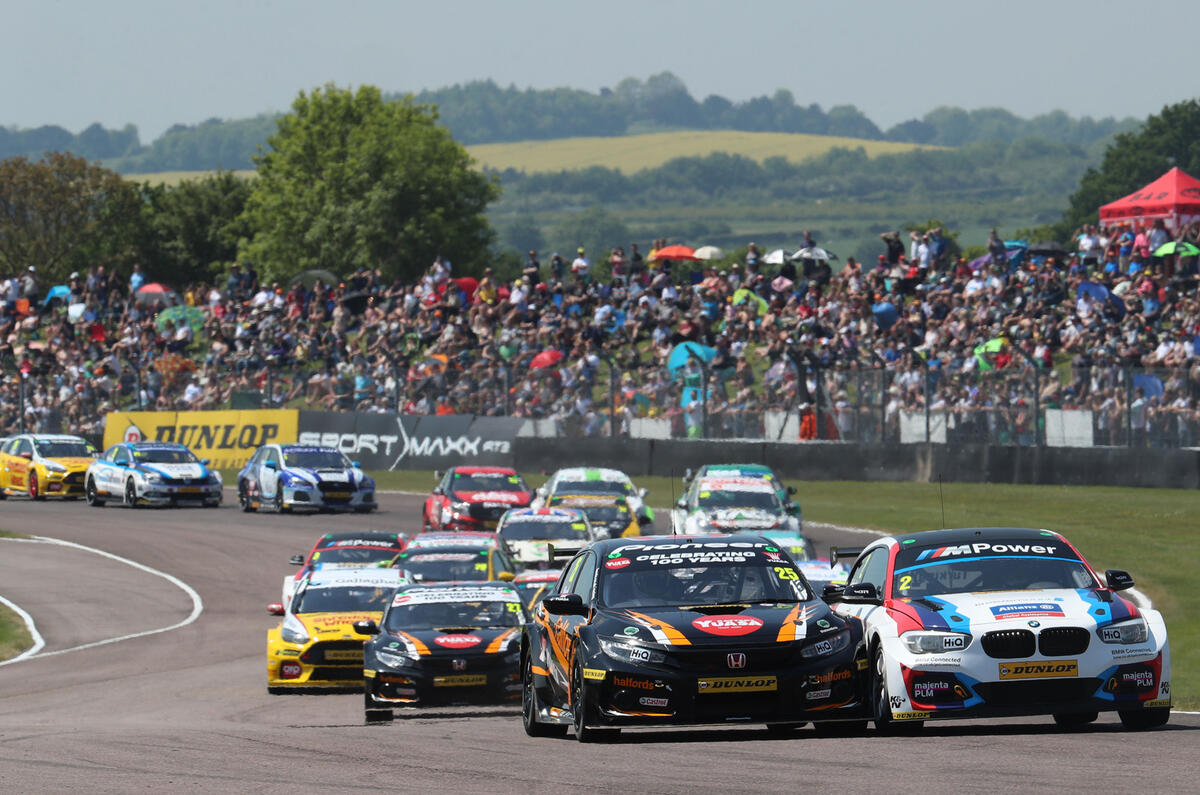 Bad luck and technical issues hampered Cammish and resigned him to a 26th place finish in race two, with Neal following up his strong race one form with a 3rd place. Race three saw Cammish finish 13th and Neal 8th after the reverse grid draw. I was pleased to see Neal return to the front of the grid and top of the podium. After a difficult 2017 where things didn't quite go his way, I was beginning to wonder if we would see Neal right at the sharp end of the BTCC grid once again. I'm so thrilled to be proved wrong. This season is proving to be just as competitive as the few before but if Honda can continue improving on their package, and keep the pace through the coming rear-wheel drive favourable circuits we could see Neal lift his fourth BTCC title come the end of the year.
What a sight that could be.
Consistency For Tordoff
Tordoff's speed on his return to the BTCC has never been in doubt, but like Neal and a couple of other big-name drivers luck certainly wasn't on his side. After a series of results which read 26th, 18th, 13, DNF, 11th, DNF after the first six races Thruxton proved to be a huge turning point in Tordoff's season. A trio of 4th place finishes across the Thruxton weekend might not make headlines, but it's that kind of consistency that can carry a driver to a BTCC title.
We already know that Tordoff is more than capable of going the distance in the title race after the Motorbase driver lost the 2016 championship to Gordon Shedden by just two points whilst driving for WSR. If Motorbase can improve the reliability of the Gardx Focus, and Tordoff keeps a cool head through the mid part of the year we could see a first BTCC drivers title for a team which has so often produced competitive cars. Although yet to see the podium on his BTCC return, I think Tordoff was one of the weekend's standout performers and is a real threat going into the mid part of the season.
Turkington Could Be One To Watch
You can never write off Colin Turkington. The two-time BTCC champion has been a measure of performance and consistency for a number of years, and always seems to be right up there at the top of the championship table. Despite not yet reaching the top step of the podium in 2018 the Team BMW driver sits in a fine 5th place in the championship table after a pair of 2nd place finishes and a 5th over the Thruxton weekend.
The series visits Oulton Park and Croft next, two circuits which rear wheel drive cars, especially the BMW's have been strong. Out of the five drivers at the top of the BTCC table (Morgan, Cook, Ingram, Goff, Turkington), only Turkington has won a BTCC championship and I think that experience could prove vital over the next two months. I expect at least two of the four above him to fall away or have a run of bad luck over the coming races, and Turkington's experience could well carry him to the top of the table before the final run in.
Another Great Weekend For Vauxhall/PMR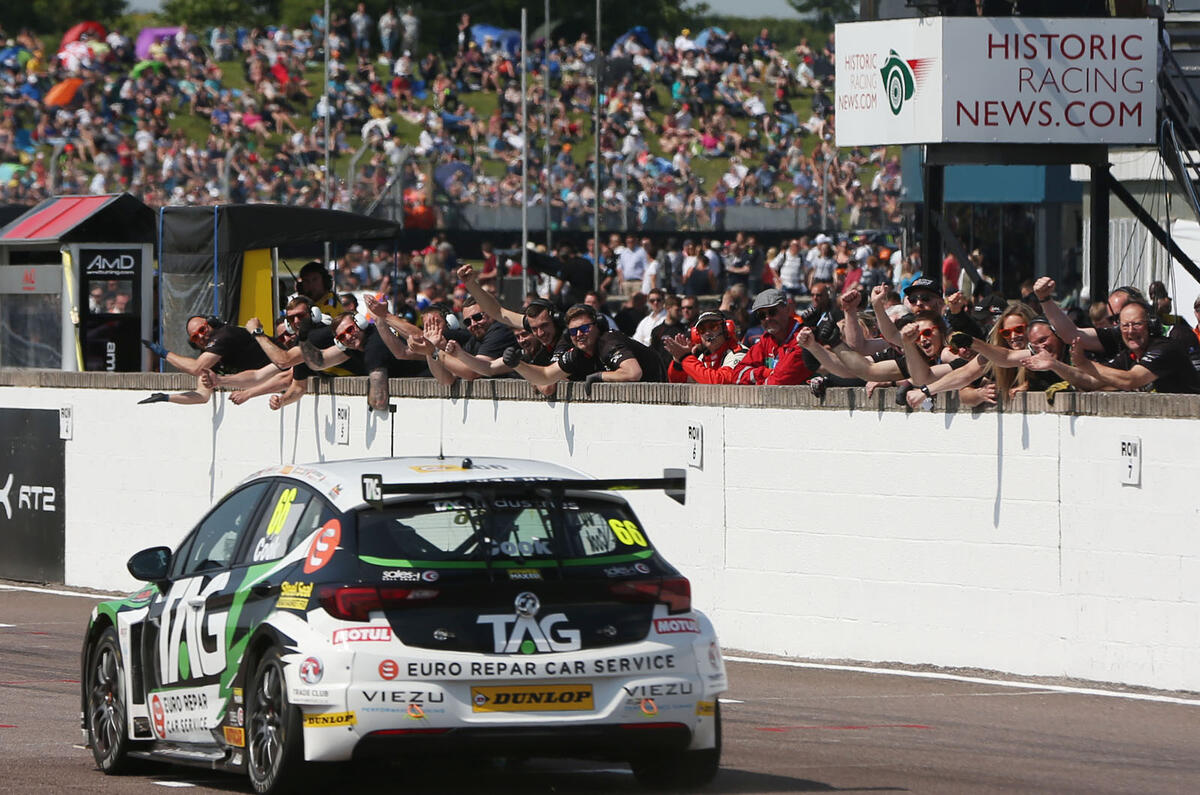 I must admit, I didn't quite expect Vauxhall/PMR to follow up their incredible Donington form with more of the same. But they did just that. Another race victory for Josh Cook and a podium in race three for Senna Proctor ensure the team leave Thruxton in the top spot in both the teams and manufacturers championships. Cook was the centre of a brief moment of controversy after race two when he appeared to have jumped the chicane after battling with Andrew Jordan, but after being cleared of any wrongdoing post-race Cook sits 2nd in the driver's championship, with teammate Proctor in 7th.
The PMR Vauxhall Astra has been amongst the frontrunning cars at all three rounds so far in 2018, and it will be fascinating to see is the team can keep the pace through the often challenging mid-season. Out of all the cars, teams and drivers at the top of the championship table, PMR has perhaps the most inexperienced combination, both in terms of how many seasons the car has been around, and how often its drivers have spent time at the sharp end of the BTCC. But the team can bag some more race victories over the coming rounds, and keep producing consistent results they will learn a great amount in the next few races.
My Standouts From the Weekend
Driver: Sam Tordoff/Matt Neal
Team: Vauxhall/Power Maxed Racing